Toxin production by spore forming bacteria in foods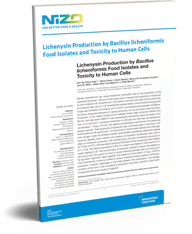 Certain spore forming Bacillus species are able to grow and produce toxins in foods, and can lead to foodborne intoxications. Their spores are commonly found in food ingredients, with relatively high levels in plant protein ingredients. Some species, such as Bacillus cereus, are well known to produce highly stable toxins. But others can do so too, such as Bacillus licheniformis, which can produce the cytotoxic compound lichenysin.
NIZO and Wageningen University performed a systematic study to establish the ability of B. licheniformis food isolates to grow and produce lichenysin under different conditions, and toxicity toward human cells was determined.
Download this article to find out: 
✔️Growth conditions that lead to lichenysin production by B. licheniformis
✔️Levels of lichenysin that are toxic to human cells
Taken together, a risk of foodborne intoxication may arise if B. licheniformis grows to high levels in foods and such product is ingested. Preventing outgrowth of this microbe throughout the chain is needed to ensure food safety.
>> Fill in the form to download the article